You can now listen to Sacred Heart Radio Online. Click the link above.
---
Weekly Bulletins
This week's bulletin 06/04/2023
Previous Bulletins

05/28/2023 05/21/2023 05/14/2023 05/07/2023
04/30/2023 04/23/2023 04/16/2023 04/09/2023 04/02/2023
03/26/2023 03/19/2023 03/12/2023 03/05/2023
02/26/2023 02/19/2023 02/12/2023 02/05/2023
01/29/2023 01/22/2023 01/15/2023 01/08/2023 01/01/2023



---
Minutes from the Pastoral Council meeting can be found on the Leadership/Pastoral Council page.
The Altar Society page is under the Ministries page.
---
Announcements
---
May 30, 2023
Here are some upcoming reminders and things to think about:
Thanks, once again, for all another delicious C&C brunch prepared for us by Dennis & Jo Doyle and supervised by Mary Bean.
We have only a few people to have volunteered to help provide snacks for one Sunday a month. Unfortunately, Hanks Supermarket has stopped providing donuts in their bakery. That makes things more difficult. If you have any ideas on how we could make every Sunday a special time to gather and socialize after Mass, please let us know. Sign-up sheets are posted in the church foyer.
It's been busy at Mass on Sundays with either visitors or new parishioners. It would be nice if we could all reach out to new people and make them feel welcome, whether they are new to the valley or simply visiting.
Adoration is a wonderful way to pray in peace and solitude. Please join us anytime on Wednesdays from 5:00 AM – 8:45 AM. It's a beautiful way to spend some time in the presence of the Eucharist on a summer morning.
Thanks to so many of you who have picked up a Bottle of Love to take home and fill up with sacrificial donations for women in crisis pregnancies. This collection will help provide them with an ultra-sound and a chance to see their unborn baby, whether at a Care Net office or when the Stork Bus comes to their aid in Okanogan County. Please return your bottle On Father's Day, June 18th.
God bless your week,
Sarah & Altar Society
---
May 7, 2023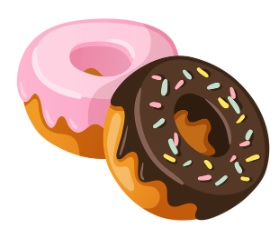 Are you interested in helping with C & C? Order 2 doz. donuts on Thursday & pick up on Saturday (bill donuts to St Gen). If you want to offer other food, that is up to you. Sign up sheet is posted in church foyer. Thank you in advance! Julie Wehmeyer
---
May 1, 2023
C&C
We are still looking for cooks and hosts for our Sunday brunches on May 21st. We'll let you know if there are any other spaces available this month. We all need this opportunity to be together and become a closer, more helpful and caring community. ~Sarah & Altar Society
---
April 30, 2023
Highway 153 Cleanup: The highway is cleaned thanks to, Carmen Merrill, Dennis Doyle, John & Nancy Kirner, and Merissa Keep. We'll be cleaning again in October, and there will be more notice as the date approaches for others to join in. ~ Alicia Brown
---
April 3, 2023
Dear Families,
Laurie Maxwell sent a note saying that, Regina Labanauskas a past and active parishioner was airlifted to Harborview Hospital with a burst brain aneurysm. She is presently recuperating from surgery and the Drs feel positive!" Regina is a longtime resident of the valley and well known by many of us. Let's storm heaven for a complete healing and a return to her normal life. May God bless and watch over Regina and her family.
Continue to remember to pray for the safe repose of the soul of Katrina's brother, Paul Nathe as well as the soul of Margarita Peraza Hernandez. Check our website or the bulletin for a list of the many people we are presently praying for.
There are so many of you who have volunteered throughout this Lenten season. Thank you all for your generosity!
Thank you, Wyatt, Levi, Max and Charlie!
---
March 28, 2023
Dear Families,
First, thank you to the people who have been feeding our Parishioners on Sunday mornings, Friday evenings and at meetings and retreats. It's been wonderful to see how many people are participating in Lenten prayer services and liturgies. Special thanks to Deacon Bill and Julie for arranging for them and being there to provide food for the soul and the stomach for all of us.
We are still looking for someone to host this Sunday C&C. For a little help, Donuts (eventually 2 dozen cut in half) can be purchased and charged to our Church (when checking out). We do need to give Hank's Bakery 48 hour notice and be able to pick them up on a Saturday. Thank you to those who bring side dishes and extras to help out. We do have very generous people in our Church. God bless each of you!
Here are some important reminders:
This Week:
It's almost time to return the CRS Rice Bowls to the Church. If you haven't yet picked up a rice bowl, you can also simply make a donation to CRS. Please put it in an envelope and place it into the donation basket on Sunday.
Wednesday morning, Adoration will be followed by Mass at 9:30.
The Sacrament of Reconciliation will be available this Thursday, March 30th at 5:00 PM. There will be two priests available to hear your Confession. Thank you for arranging this so quickly, Father.
Stations of the Cross is at 5:30 this Friday, March 31st, followed by a soup supper.
The Humlings (thank you!) will be taking our thousand-plus diapers to Care Net just after Palm Sunday. If you'd still like to donate more diapers, let Sarah know and we'll arrange to get them over to Care Net at a later time. Care Net is always very appreciative of our donations.
Holy Week:
Palm Sunday Mass and Procession begins outside with prayer, palms, song and a procession into Church.
Wednesday Adoration 5:00 AM until 8:45 AM, Benediction followed by 9:30 Mass.
Thursday, April 6th – Holy Thursday Mass at 5:00 pm.
Friday, April 7th – Good Friday Service at 3:00 PM followed by Stations of the Cross with a soup supper.
Saturday, April 8th – Holy Saturday (Easter Vigil Mass at Sacred Heart Brewster at 7:00PM)
Easter Sunday Mass, April 9 at 11:00 AM.
PRAYERS:
Please continue to pray for Fr. Pedro's father, Jose Bautista, that he might find comfort in his faith and peace & caring from his family surrounding him.
Let us continue to pray for full recovery of Mary Bean, Jo and Dennis. We'd love to have them back before Easter.
We hope this will help you keep track of the many holy and blessed events in our faith and our Church in the coming weeks.
Have a very beautiful few weeks,
Sarah & the Altar Society
---
March 21, 2023
Dear Families,
Many of you were at Mass on Sunday and know that Father Pedro has returned back to St. Genevieve. He left to come back to us the day before his beloved mother died.
Father offered our Sunday Mass for his mother, Margarita. I'm sure he knows how much we have prayed for her and for the whole Bautista family.
Father asked us to pray especially for his father who will be very lonely without his wife.
Could you pray for him, Jose Bautista, for strength, peace and comfort from his faith?
Father was very grateful for St. Genevieve donations that we gave to assist his family. Thank you!
Good news! Dennis, Jo and Mary Bean are improving and are hoping to be back in their pew very soon.
Thank you so much to Dayton (and his grandmother, Julie) for preparing so many pancakes for everybody last Sunday. What a thoughtful thing for him to do!
Remember the Parish Lenten Retreat this coming Saturday beginning with a light breakfast at 9:00 AM.
The retreat, Jesus…the Way, the Truth and the Life begins at 9:30.
Thanks for all your many prayers,
Sarah & Altar Society
---
March 18, 2023
Dear Families,
Tomorrow:
A special St. Patrick's Day breakfast for all, especially the children.
A special St. Patrick's Day Corned Beef dinner (party) for adults. 5:00 Happy Hour BYOB. Dinner at 5:30. Side dishes and desserts are welcome!
Next Friday and all through Lent:
Stations of the Cross at 5:30, followed by a light Lenten supper.
Next Saturday:
Parish Retreat for adults at 9:00 with a continental breakfast: Retreat from 9:30-12:30.
We hope you'll join us,
Sarah & Altar Society
---
March 14, 2023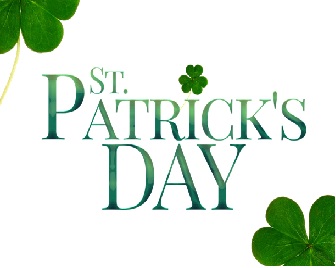 YOU ARE INVITED TO A CELEBRATION!
AT: ST. GENEVIEVE CHURCH
WHEN: SUNDAY, MARCH 19TH
TIME: 5:00 pm HAPPY HOUR
5:30 CORNED BEEF AND CABBAGE AND MORE…
WHY: TO CELEBRATE OUR FAITH AND BE WITH FRIENDS
WHO: ADULTS ONLY, PLEASE
WHAT ELSE? SIDE DISHES ARE WELCOME!

(We may need a little kitchen help, too. If you'd like to lend a hand, let us know.)
There will be a special Guest Chef, this Sunday, who will prepare a delicious Irish breakfast, for the children, right after Mass this Sunday.
And…
Mary, Jo and Dennis are very grateful for your prayers. They are hoping to be healthy and back at Church very soon. Unfortunately, others will be cooking the corned beef this year.
Stations of the Cross, will be held at 5:30 this Friday evening, followed by a light soup supper.
Our Parish Retreat, JESUS, THE WAY, THE TRUTH, THE LIFE, is Saturday, March 25th. Continental breakfast at 9:oo. Retreat from 9:30 until 12:30.
May the wind be at your back…
Sarah & Altar Society
---
March 9, 2023
Dear Families,
If you are still interested in making a donation to help the Bautista family, Tom Leuschen has set up a donation account at the Twisp bank under his name, Thomas Leuschen, the first 4 numbers of the account are 1791. Many, many thanks!
Nancy Kirner is trying to update phone numbers and email addresses for families in our Parish. The next time you are in the Church, go to the Altar exit/entrance and check your numbers. If things have changed or incorrect, please correct it.
God be with you all,
Sarah & Altar Society
---
March 8, 2023
Dear Families,
St. Genevieve Parish is continuing on as well as we are able without Father Pedro. He is missed but we are very thankful to Fr. Luta and Fr. John for coming over from Omak to say Mass for all of us. May God bless them both! Let's not forget to pray for Father's mother, Margarita. We'll let you know when we hear more news.
FOOD:
Thank you to those of you who have signed up to bring food for either the Sunday C&C or the vegetarian soup for after the Stations of the Cross. If you would like to help out, please contact Julie Wehmeyer.
STATIONS OF THE CROSS:
One of the best ways to pray in Lent is to "walk the way" of Christ's suffering and death with him. It can be very meaningful to the children, also. The Stations begin at 5:30 Friday evenings during Lent, followed by a light supper of soup and bread.
PARISH RETREAT:
Deacon Bill invites you to a Lenten Retreat, JESUS, the WAY, the TRUTH and the LIFE to be held on Saturday, March 25th. The day will begin with a continental breakfast at 9:00 and the retreat will begin at 9:30 and end at 12:30.
ST. PATRICK'S DAY CELEBRATION:  
Sunday evening, March19th, will be our annual, adult only, St. Patrick's Day Party. Corned beef will be provided. This year will be a potluck feast ~ side dishes and desserts are requested and bring what you would like to drink. BYOB – More information soon.
RICE BOWLS:
This is a world-wide collection sponsored by Catholic Relief Services organized to aid the poor and suffering around the world. Since Lent is a time to give "alms", this is a good opportunity to help in another way. Pick up a cardboard bowl from one of our entryways and fill it with extra change or any sacrificial donation you wish throughout this season of Lent. Then bring it back to Church around Easter. Thanks!
BABY DIAPER DRIVE:
This is another of our annual Lenten collections. The Diapers go to Care Net in Omak then distributed to other Care Nets and, eventually families in need in Okanogan County. Care Net has depended on our help for these necessary items for a long time.
Any size is great but #4 & #5 are most needed.
Thank you all for everything!
God bless you,
Sarah & Altar Society
---
March 6, 2023
Happy Feast Day to these two brave women. This is the diary of St. Perpetua that I told you about at our Altar Society meeting. It's much longer than I remember but it's amazing that it's been preserved for such a long time. ~ Sarah
Click on the image below to learn more about this incredible story.
---
February 16, 2023
Please continue to pray for Margarita Bautista, Father's mother. We'll let you know when we hear any more news from Father.
DON'T FORGET:
Our pre–Lenten Pancake Sunday, this Sunday. Thank you, dads and kids (and moms, too).
Altar Society Lunch Out for Women (pre-Lenten Mardi Gras this Tuesday) at noon at La Fonda Lopez. Please rsvp online or at 509-996-9892.
Thank you for your patience,
Sarah & the Altar Society

---
February 14, 2023
SOUPER-BOWL:
A word from Linda: "Although the collection was a huge success, it still all fit in my car just fine! I had wonderful helpers load me up, so I'm not sure how it compares to last year until we get it unloaded in one spot. Seemed like a lot! When I arrive at the Cove, there will be many hands available to help get it all inside". Thank you to everyone!!

PANCAKE SUNDAY:
It has been a tradition at St. Genevieve to have a pre-Lenten Pancake Breakfast the Sunday before Lent begins. It began with having fathers make the pancakes with children serving parishioners. It started as a thank-you from the children for the support the Parish has given them. So, instead of other dishes and treats, some expert dads will be stirring and flipping up pancakes for you this coming Sunday morning. Donations are welcome. We're sure it will be the best breakfast in the valley. Don't miss it!
WOMEN'S LUNCHEON:
We discussed a casual celebratory out-to-lunch gathering at our Altar Society meeting. It's so good to get together and we don't always have time to just be with one another and chat. So….You are invited to a Mardi Gras Lunch at La Fonda next Tuesday, Feb 21st at 12:00 PM. Please R.S.V.P. to Sarah on email or call at 509-996-9892.
Thanks, as always, for all you do for our Church and one another.
God bless you always, Sarah & Altar Society
---
February 1, 2023
Dear Families,
If you are able, please remember to pick up an extra can or two of soup for those in need in our community.
Thank you to Linda and Tom Flynn for making sure that they will get to the Cove in time for SOUP-ER BOWL SUNDAY on February 12th.
Remember, also, that there will be Anointing of the Sick and Blessing of Throats at 9:30 Mass this First Friday of February.
There will be a February Altar Society following Mass at about 10:15. Come for a light lunch, prayer and our meeting. We'd love to have you join us.
God bless you,
Sarah & Altar Society
---
January 30, 2023
Dear Friends,
Here are some quick reports and reminders for the upcoming weeks:
The Women's Retreat was a great success thanks to April Stephens, Deacon Bill and Julie and all who came and enjoyed food, camaraderie and an uplifting spiritual message. Check out the attachment above for a picture of some happy women.
Thanks, again, to all who have hosted C&C recently: Deb Maener, John Simon & the Wehmeyers. Nancy Kirner has also offered her help. If you would like to help out on a Sunday, you can sign up on the calendar to the left as you walk into the kitchen. Thank you!
Next Friday, Feb. 3rd, is a busy day. There will be First Friday Mass with Anointing of the Sick and the Feast of St. Blaise and the Blessing of Throats. Have your throat blessed whether you have a sore throat or not. It's an old ritual meant to protect people from throat issues.
Next Friday, Feb. 3rd, we will also have our February Altar Society Meeting, downstairs after Mass. All women in the Parish are invited to join us for a light lunch a short business meeting and some social time with one another. We hope to add extra touches to our monthly meetings and would love your feedback.
Once again, the Stork Bus from Care Net will be on display this coming Sunday at the Cascade Bible Church. They will arrive at 11:30 but are hoping they will be staying around long enough for us to come and visit. They plan to have lunch available for purchase thanks to Mountain Meals, and Levi and Kylee Knox.
Have a very blessed week,
Sarah & Altar Society
---
January 27, 2023
I'm sorry, but the date that I wrote for the visit from the Care Net Stork Bus arrival is on February 5th, not this Sunday.
(I appreciate my online editors! Thank you!)
It will arrive at 11:30 with tours through the bus and a presentation by the Care Net Executive Director Angel Ross and Elizabeth Brown RN.
They will be providing free ultrasounds and pregnancy & STI testing as they tour Okanogan County through the coming years.
A cold day at the Omak March for Life.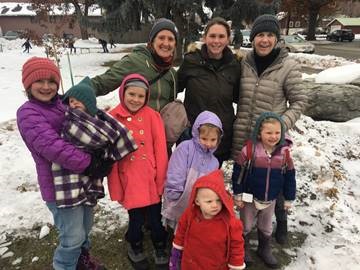 Sarah & Altar Society
---
January 25, 2023
Dear Families,
There is lots going on in the next weeks; something for everyone.
First of all, many thanks to Jo and Dennis and Mary for all their Sundays of serving us beautiful brunches. We're sure that other Churches in the valley were very envious of us. We can never begin to duplicate their excellence in every way.
However, John and Deb Simon have generously begun bringing C&C, fresh donuts, as well a few other tasty items to help continue our tradition of meeting after Sunday Mass to enjoy fellow parishioners, a cup of coffee and a little something to eat. Nancy Kirner has also offered her services on one Sunday a month. Is there anyone else of you who wouldn't mind offering your help, too? Please reply to this email or talk to Deb or John. Thank you to each one of you for your help!
It's that time of year…Soup-er Bowl Sunday! St Genevieve's is making our annual collection of soup to help those in the Valley who are in need of assistance. The results of our efforts will go directly to the Cove for further distribution within the community. The gathering of your gifts begins this Sunday (01/29) and continues through Super Bowl Sunday (02/12). Every single can is truly appreciated!
Let me know if you have any questions/concerns—425-830-5673.
With much gratitude,
Linda Flynn
Don't forget the Women's Retreat this coming Saturday, January 28th in St. Genevieve's basement. A continental breakfast will be provided. If you can stay for the afternoon, bring something to share at our luncheon potluck. If you can't join us for the whole day, come or go, whenever it fits your schedule. If you hope to spend the day, bring along something to share for a potluck lunch. Thanks!
"Save the date! January 28th for Wholehearted 23, Women's Retreat.
THE 23RD PSALM; MY SHEPHERD
Keynote speaker: Sonja Corbitt
We will live stream the retreat in the church hall 9am to 2pm.
(You can stay as long as you are able or come when you can.)
Continental breakfast provided, please bring a potluck lunch item.
For Women 18 and up. Babes in arms welcome.
Contact April if you have any questions 808-276-1228″
Bring a friend, if you like!
Finally, this Sunday, Care Net will be bringing their Stork Bus with an Ultrasound to Cascade Bible Church for tours of the bus, along with one of the nurses who will accompany it throughout Okanogan County. Unfortunately, they are arriving at 11:30 AM, when we are still at Sunday Mass. Angel Ross, Executive Director, is hoping for our sake, to extend the time they will spend at Cascade Bible Church. We'll let you know.
We will be welcoming Fr. Pedro home this coming Sunday. Many thanks to the priests who were able to offer Mass for us the last two weeks.
February 3rd, is our First Friday of the month. It is the day when Father offers Anointing of the Sick to those of us who are suffering from health issues. We are so fortunate to have this opportunity once a month.
See you on Sunday,
Sarah for Altar Society